Dies Working and Types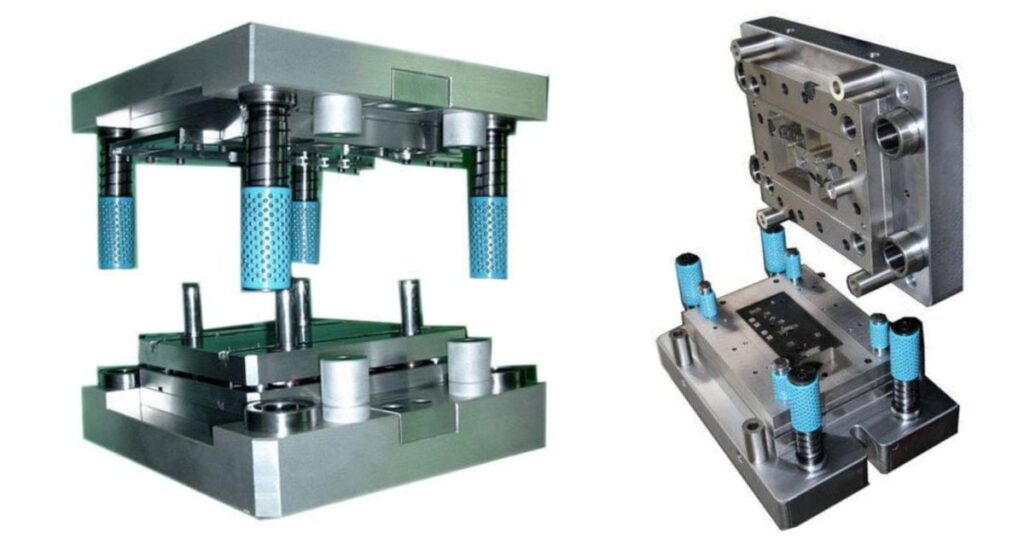 Dies Working and Types
General description:- The dies are basically a female part, which is having cavity, used in different forming operation, specifically in sheet metal operation. Actually, the dies hare having another companion called punch, which is having protruded surface and fits into the cavity of the die. The Figure 1 shows a conceptual illustration of die and punch assembly.A die is a specialized tool used in the manufacturing industry to cut or shape material, usually with the use of a press. Dies, like molds, are usually tailored to the item they're intended to make. Die-cut products range from basic paper clips to complicated parts utilized in high-tech applications.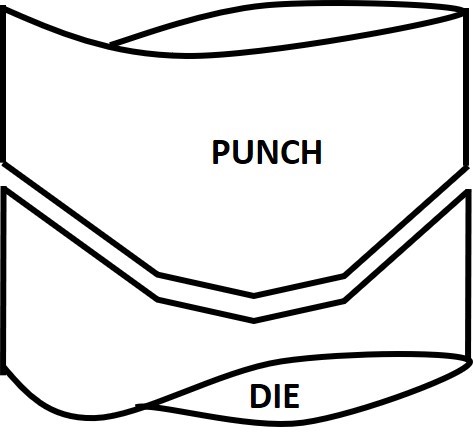 Dies Working and Types
The dies can be classified on the basis of their function and their method of operation. Moreover, according to the function of dies, it can be classified into two types;
Cutting die: – The metal and metal sheet is cut with these types of dies. They use a shearing or cutting action. Blanking dies, perforating dies, notching dies, trimming, shaving, and nibbling dies are some of the most extensively used cutting dies.
Forming die: – The forming die are not involved in cutting operation of the metal, instead, they usedto form the metal in different shapes. These dies alter the blank's appearance without removing any such material from it. Bending, stamping, drawing, and squeezing dies are examples of these dies.
According to the method of operation the dies can be classified as single operation or simple dies, compound dies, combination dies, progressive dies, transfer dies, multiple diesand inverted dies. The brief description of the types is given below.
Simple or Single operation dies:
A simple die, also known as single operation die, is a forming tool that only performs one operation per punching stroke. This kind of die is extensively used for smaller jobs. It could, for example, be beneficial in the production of simple shape forming of the metal parts.
A simple die is an ideal choice if someone need a tool that can perform blanking and punching operation in sheet metals. The main disadvantage is that the simple die is inefficient and unsuitable for larger and complex shape applications. The illustration of simple die is shown in Figure 2.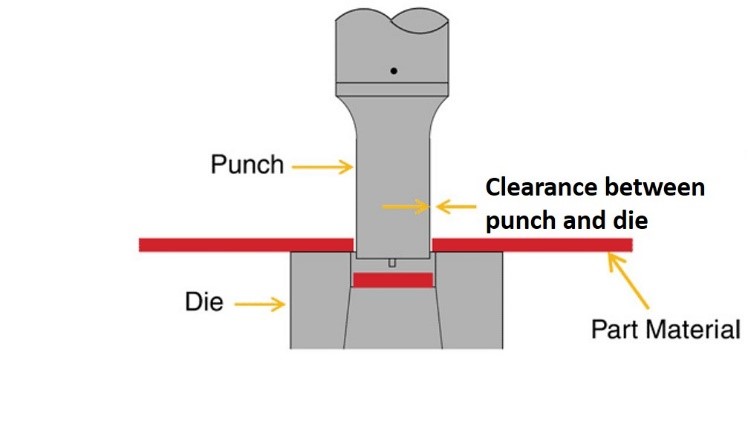 Compound dies:
The compound dies are those dies which can perform more than one operation with a single stroke of punch at a single work station. These dies are originally a combination of punching and blanking tool. And both of the operation, punching and blanking, are the cutting operation, thus, only cutting operations are possible in such dies. For instance, a washercan be cut out by combining the blanking and punching (piercing)operations by a single stroke of punch by the help of compound die.
These dies are far more precise than single-operation dies. However, the compound die is less suitable for bending and shaping operations, and it necessitates more force than some of the other alternatives. When it comes to manufacturing washers and other flat metal parts, it's a more cost-effective solution than a basic die as it can give mass production with highly efficient operation.
Since these dies can perform more than one operation at a time, as a result, the force required to operate compound die is higher. Moreover, if there are more than three processes, designing and manufacturing a punch and die combination is challenging.The Figure 3 shows general diagram of a compound die.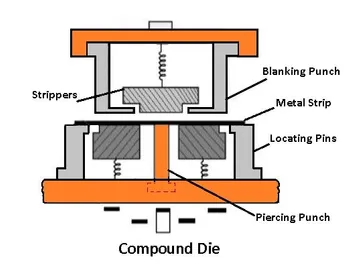 Combination dies:
In terms of design and efficiency, the combination die is similar to the compound die. It can perform multiple operations at once, allowing it to provide faster and more consistent results. Combination dies are used when cutting and forming processes are combined and performed a time, such as blanking with deep drawing, blanking with bending, punching with coining etc. The illustration of combination die is shown in Figure 4.
Due to high production rate and multiple operation at a time, from mining equipment manufacture to electronics and appliance development, this versatile tool can be used in a variety of metalworking applications.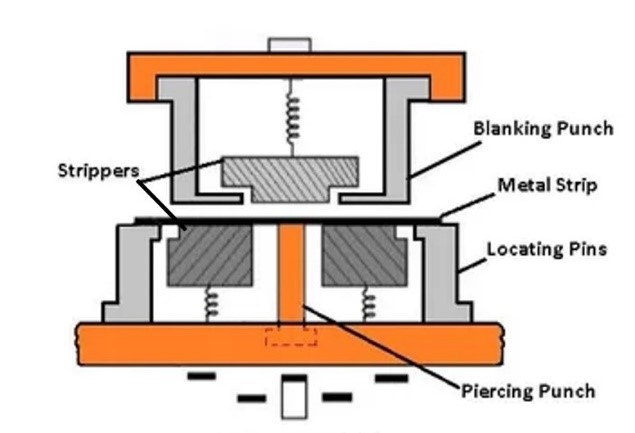 Progressive dies:
A progressive die, also known as follow die, can perform series of multiple operation at a single stroke of the punch. However, the workstation is different for every punch, but all of the punch operates simultaneously on the sheet metal. During each stroke of the punch, an operation is performed on the work piece at each station. The metal strip is then transferred to the next station as the next strokes proceeds. Each stroke of the punch produces a finished work piece.For example, the washer making operation is shown in Figure 5.The piercing punch cuts a hole in astroke, while the blanking punch blanks out a section of the metal where a hole had previously been pierced. Following the first stroke, which just punches a hole, each subsequent stroke of the press produces a finished washer.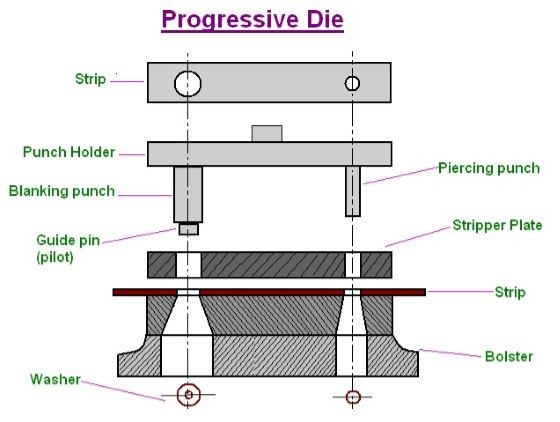 The one component can be produced at one stroke and as a result, the manufacturing rate is same to the compound die.Furthermore, the force required will be minimized, either by giving the shear or by staggering the punches approach. Moreover, because the operation is carried out in stages, the design and manufacture of punch and die combinations is simplified, regardless of the number of operations.The only issue is that it's tough to balance forces on the punch head. The progressive diesrequired setup processes as well as precise alignment. In addition, when there is damage to a single station, the entire die set will be removed.
Transfer dies:
It is similar to the progressive dies, except that in progressive die the blanking operation performed at the end of the production line whereas in transfer die the blanking operation is performed initially. The rest of the operation is performed when the blanked material is transferred to the next work station, as shown in Figure 6. The main advantages of transfer die are it is more economical, more versatile and larger & complex part can be handled easily. The prominent and only disadvantage of this die is the blank has to be set on each workstation, which takes time and makes this process little uneconomical.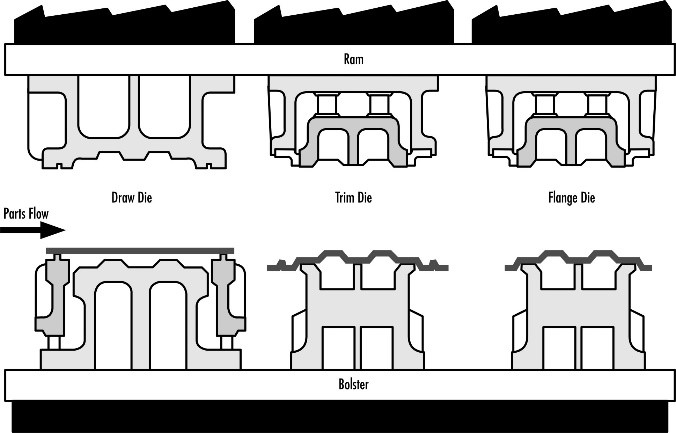 Multiple die:
It is also called gang die in which multiple number of dies are arranged in a series and hence multiple operation can be performed at a time. The difference between transfer die and multiple dies is the ram set. In transfer dies, all the punch are attached to a single ram whereas in multiple dies, different punches have their own ram set and hence they can operate separately. This die gives high production rate as multiple components can be manufactured at a time, See Figure 6.

Inverted dies:
This is a unique type of die in terms of their moving part. In general, the dies remain stationery and punch move into it to form the material but in inverted dies, the punch remains stationery and die moves over it. The Figure 8 illustrates the inverted dies.