Flush Bottom Valve: Definition, Types, Components, Working, Application & Advantages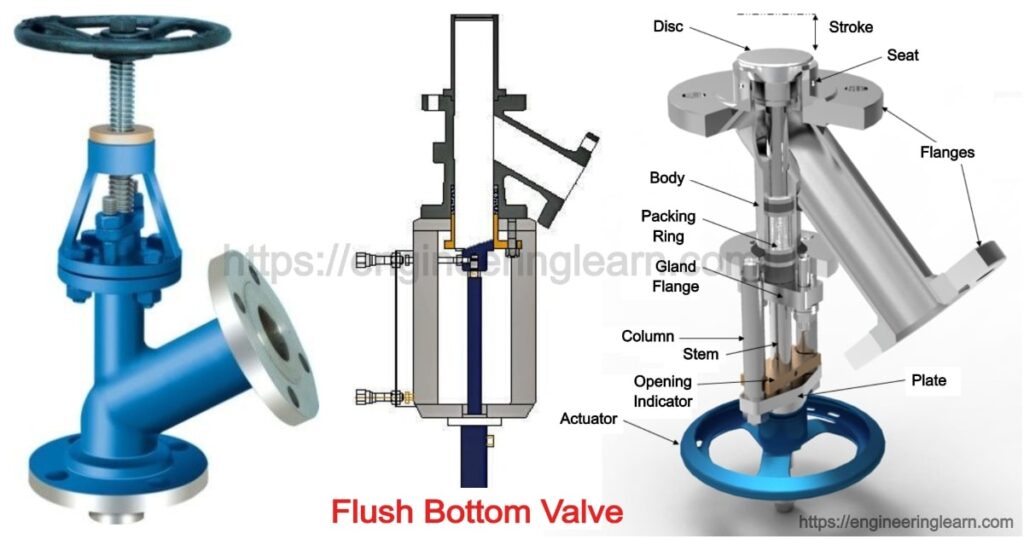 What is a Flush Bottom Valve?
Flush Bottom Valve: Definition, Types, Components, Working, Application & Advantages :- Flush bottom valve is also known as angle bottom valve, tank valve, flush mount valve, bottom drain valve etc. Flush bottom valves are designed to provide dead space free shut off for vessels, reactors, storage tanks and autoclaves and for providing drainage to the semi solid media, viscous material, slurry and abrasive material. Dead space free shut off can be completed by placing valve seat flush with bottom of vessel which results in eliminating build up of any product within vessel nozzle. For fit and forget performance of flushing flush bottom valves is very efficient.
For zero gland infiltration which ensure to zero gland restriction flushing, zero gland retention and low energy quick response flushing, quarter – turn operation flush bottom valves is used.
Full port size segmented cavity and ball filled type valve remove all internal pudding and pocket of biological fluid in the valve internal which remove bacteria formation as well as growth and contamination.
Size and Material of Flush Bottom Valve
Flush bottom valves are available in size range of 15mm to 150mm.Various materials are used for the construction of flush bottom valve like cast iron, stainless steel but the seating of the valves are made up of neoprene, Viton, Teflon which depends on process.
Normally, standard flush bottom valve inlet size is provided one size larger than the outlet size of the valve. Outlet port is provided with an angle with respect to the inlet port, generally 45 or 65 degrees of deviation are provided to the outlet port. End connections of the valve are flanged.
Working of Flush Bottom Valve
For tank bottom mounting one higher size of flange consist in flush bottom valves in flanged design and varying size in case of a flush bottom valves which have welded designed having accessories optionally selected as solenoid valve and quarter turn pneumatic rotary actuator. For on – off position indicator with 3 different positions for fine and coarse filling.
For hydro generators ideal design is welded design because they can fit to all tanks like conical, flat, ellipsoidal, jacketed and insulated and torispherical etc.
Flush bottom valves have design which is compact ball type which directly open in a tank for flushing 100 percent to inner surface of reactor, tank.
By ISO 5211 the valve actuator mounting pad interface was designed.
Types of Flush Bottom Valves
Flush bottom valves are of two types;
1. Valves with Disk into the Valve
In this case disk gets pulled down into the valve which directly affect the discharge of the material.
2. Valves with disk Opening into the Tanks
In this case stem pushes the disk into the tank for draining the liquid. When internals restrict the disk movement then this type of flush bottom valves cannot be used.
Generally there are only two types of design of disk available: Ram type and Plug type.
Components of Flush Bottom Valve
The components of flush bottom valves are same as that of globe valve and opening and closing system are also identical to globe valve. Shut off in the valve is obtained by the disk closing against body seat. Cavity filler which is application suitable are used for preventing the fluid entrapment which leads to hazards, production damage and contamination.\