Types of Stud Fastener: Threaded Stud Bolt, Undercut Studs & Wall Studs [with Pictures]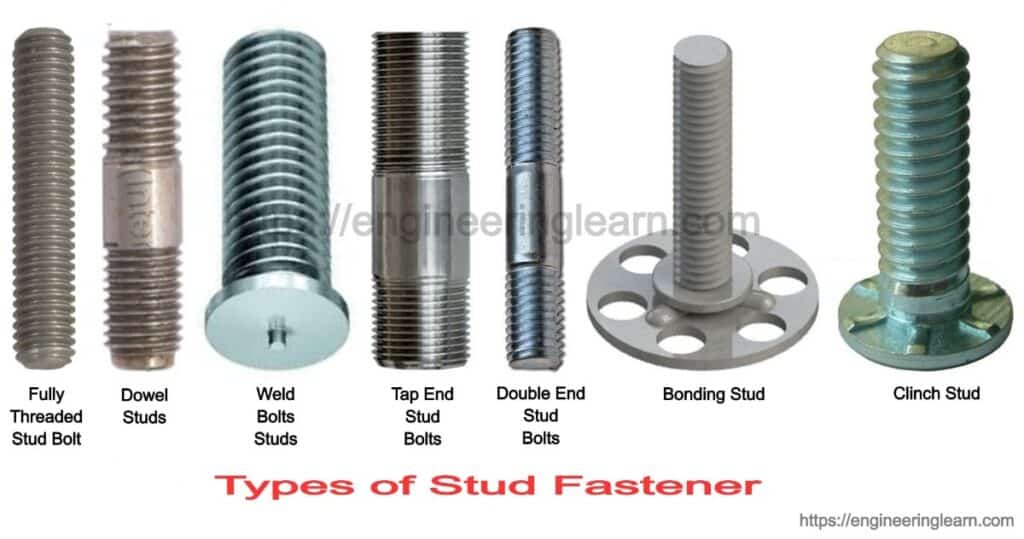 What is Stud Fastener?
Types of Stud Fastener: Threaded Stud Bolt, Undercut Studs, Wall Studs :- Studs along with the thread or proprietary-lock thread are used to provide a positive lock against turning and loosening. The lock helps in assembling and disassembling the locknuts on studs and is mostly important where there is a requirement of maintaining a pre-stress to combat fatigue failures. Studs which is applied with the sealant helps in preventing the leakage of fluids via holes which are tapped in porous materials.
A stud is referred to as a vertical framing member which is found forming parts of a wall or a partition. These are also referred to as wall studs as they are a fundamental component of frame construction and are most commonly made of timber. However, talking about the steel studs, they are found to be increasing popularly and particularly for non-load bearing walls as well as the firewalls.
Studs are also found carrying loads of the vertical structures like a part of a partition wall, which could be considered as non-load bearing. It is found that these are typically sandwiched within the top as well as the bottom plates which are spaced equally. This spacing can be governed by the size as well as the spanning ability of the facing material or the cladding material.
Classification of Studs
Studs can also be used in order to hold the windows, doors, insulation, interior finish, utilities etc. In order to form the interior and exterior corners, intersecting walls, headers, jambs and sills, studs can be bundled coupled together.
A stud can be essentially just a piece of threaded bar which resembles a machine screw without a head, whereas some studs have heads that can get incorporated permanently so that they are also attached to it. Studs are commonly designed in such a way which can permanently attached to one part, and provide a means of attaching to the other part in conjunction with a nut. This type of stud can also be welded, swaged or bonded.
Till date there are four basic classifications of studs which are well known to mankind. Scroll down to learn more about these classifications in detail.
Tap-End Stud Or Gland is referred to as that type which is found having an interference fit at one end and free-running thread at the other end.
Double-End Stud is referred to as that type which has free-running threads at both the ends.
Three Bolt stud is referred to as that type which is mostly used in places which is found having high-temperature or pressure applications.
Studs used for general-purpose applications.
Different Types of Studs
Usually the studs are used to fasten the plates by the use of a hammer and a nail and then by the nail gun. There are some modern techniques like the screw fasteners, clips and ties which can be used in order to enhance the resistance to some of the wind and seismic activities. There are various types of studs about which the user must know in order to select the most appropriate stud for the site requirement. Scroll down to learn more about these types in detail.
1. Timber Studs

: ( Types of Stud Fastener )
Timber studs are quite easy to use as they are light in weight as well as adaptable and can also be cladded as well as in filled with a variety of materials in order to give various finishes and properties. This type of material should be prepared or planed in order to ensure that the wall is of a constant thickness along with its parallel faces.
The user must take care that the timber studs should be completely dried before installing, otherwise it can prone to shrinkage or twisting as soon as they dry out. In order to ensure this they do not become damp, therefore should be stored carefully on site before usage.
Other studs may have threads at both ends. In some cases, both of them are intended to accept the nuts, which are termed as stud bolt. Alternatively, a stud can have a self-taping thread at one end, intended to be permanently screwed into a part along with a machine thread at the other end to accept a nut. Some common types of stud include:
2. Fully Threaded Stud Bolt

: ( Types of Stud Fastener )
A fully threaded stud bolt is referred to as a type of stud bolt which is essentially just a length of threaded bar. It is very important to know that the term stud or studding is similar to a threaded bar. These types of studs can commonly be used for fastening the large parts together, with nuts at a particular end in order to form a bolt. There are certain other uses of this type of studs in order to provide an adjustable member for the structures and machines. The nuts are allowed to be moved over a large distance along with the bar which also generates a large force.