Types of Rotary Valve: Application, Components, Limitations (Rotary Airlock Valve)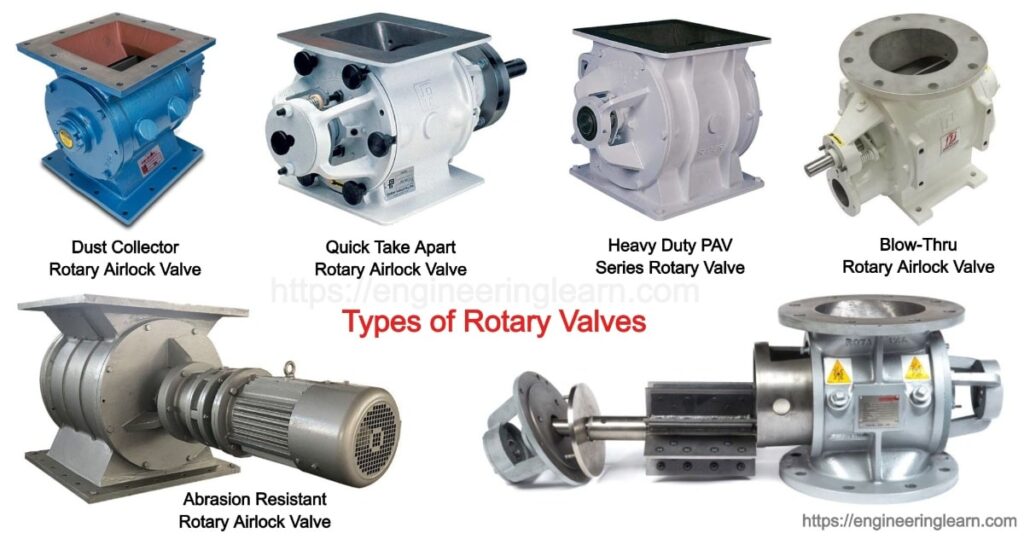 What is Rotary Valve?
Types of Rotary Valve: Application, Components, Limitations (Rotary Airlock Valve) :- The primary function of a rotary valve is to regulate the flow of material, generally to reduce the rate of flow to a desired flow rate. Rotary valves are also used in different engine designs. As a flat disc the rotary valve is used in two stroke motorcycle engines in which this arrangement prevent the reverse flow back into intake port in compression stroke.
Uses of Rotary Valves
Rotary valves are also used for metering the flow of granular bulks. It is also known as rotary feeder or rotary airlock. A hopper is used for feeding the material in valve and the valve rotor is used for handling and then the material is deposited in the conveyor system. Rotary valves are generally used in air conveyor system for the reduction of loss of pressure across valve, rotary valves is useful for metering the material at a controlled rate.
These valves lock and prevent the air loss while performing the important required material handling functions. Rotary valves can move sticky to dry materials and have various applications in plastic, food, pharmaceutical, chemical and manufacturing markets. There is minimum risk of product damage in the rotary valve, elimination of shearing effect completely cannot be done but in general 5 percent of material which is entering the rotary valve is subjected to the shearing effect between inlet throat and the rotor tip.
Operating Speed of Rotary Valve
Operational speed of a rotary valve is determined with respect to bulk density of the material and the size of the handled material because for high efficiency it is important to run the rotor at the correct speed.
Functions of Rotary Valves
It is used for controlling materials flow rate to required rate.
In inlet and outlet it maintains differential gas pressure.
It act as a explosion or flame barrier
Applications of Rotary Valves
Processing of food and chemical
Batching, Mixing
Feeding or discharging of pneumatic conveying lines
Discharge of silos
Plastic manufacturing
Pharmaceutical manufacturing
Components of Rotary Valve
1. Housing
It is generally of cast iron construction for reducing the cost and imparting rigidity. Housing provides a protective pathway and inlet/ outlet ports in valve.
2. Rotor
It is the rotating part of the valve provided for material handling.
3. Rotor Bearing and Seal
Rotor bearing is provided for holding the rotor in place and material is being sealed from inside of the valve housing through the bearing and the shaft seal.
4. Drive
Rotor shaft is attached with the drive mechanism from outside which control the rotation speed of the rotor and the direction of rotor.
Types of Rotary Valves
With different functions there are some specific designs which enable the rotary valve to achieve the handling requirements. There are different types of rotary valves based on their applications.
1. BAV Rotary Airlock Valve

: ( Types of Rotary Valves )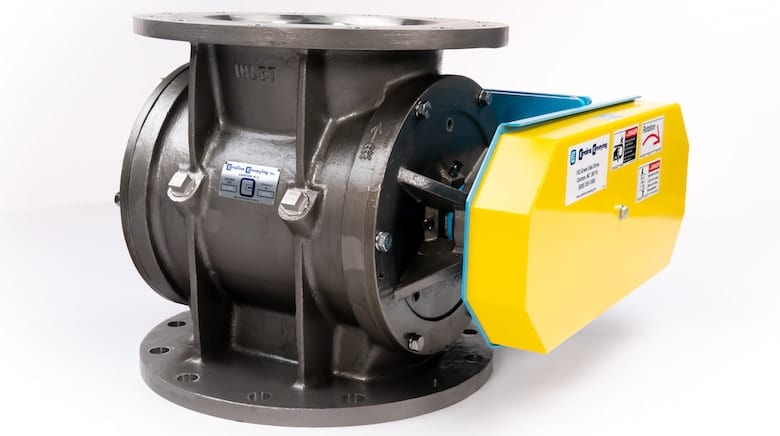 In material handling applications which require frequent cleaning, BAV Rotary Airlock valve is suitable for this purpose. It is designed with rotor which is demountable and rail system for safe removal of end plate and the rotor as a piece. This kind of a rotor have high efficiency by:
Reducing the time by gapping rotor while reassembly.
For quick reassembly it does self centering of the rotor.
Prevents from operator strain and damaging of part from handling.
For inspection, maintenance and cleaning the disassembling is fast and easy.
2. Dust Collector Rotary Airlock Valve

: ( Types of Rotary Valves )
The dust collector series rotary airlock valves are ideal for the applications to use at the discharge of material of dust collectors, hoppers. These type of rotary valves are designed for low temperature minimal pressure differential applications. Dust collector series rotary airlock valves provide air seal and these does not feed at specific rate. They have heavy duty design with eight blade rotors, economical and precision machine.