Diaphragm Valve: Types, Parts, Uses, Working, Application, Material, Advantages & Disadvantages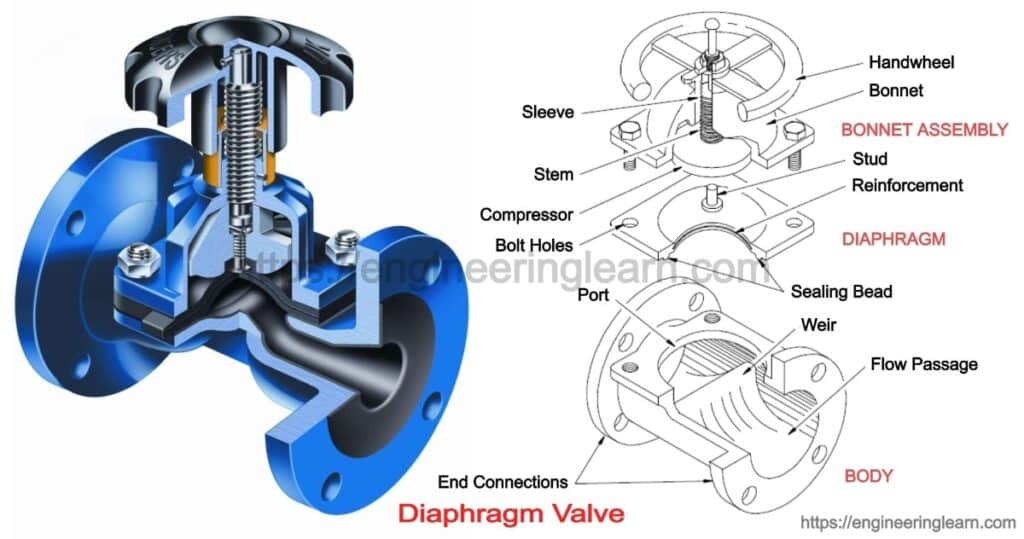 What is a Diaphragm Valves?
Diaphragm Valve: Types, Parts, Uses, Working, Application, Material, Advantages & Disadvantages :- Diaphragm valves are also known as membrane valves and they have a valve body in which there are two or more ports, a saddle or weir or seat upon which diaphragm close the valve, and an elastomeric diaphragm. It is somewhere related to the pinch valves, but it uses a elastomeric diaphragm in place of elastomeric liner in the body of valve for separating flow stream from closure element.
Metal, plastic or other material on the basis of use are used for the construction of the valve body. It is a pressure responsive, flexible element which transmit force to close or open or to control a valve.
Uses of Diaphragm Valve
Diaphragm valves are ideal for corrosive applications where diaphragm materials and the body are selected for chemical compatibility like acid, bases etc.
They are also best suited for abrasive applications. For abrasive applications the body lining of the valve are designed to resist abrasion and diaphragm can be replaced easily when worn out.
Liquids in which solids are entrained, diaphragm can seal around entrained solids and they provide positive seal.
Slurries, diaphragm provides seal around entrained solids.
Applications of Diaphragm Valve
Wastewater and water
Paper and pulp
Power
Cement
Chemical
Minerals and mining
Bioprocessing and Pharmaceutical
Method by which Diaphragm valves control the flow of fluid
A flexible diaphragm which is connected to the compressor with the help of stud which is molded in the diaphragm is used by the diaphragm valves. Diaphragm is pushed in contact with valve body's bottom for providing shut off instead of pinching linear closed for providing shut off. For flow control with precise and variable opening to control pressure drop from valve, the manual diaphragm valves are ideal.
The handwheel in the valve is turned until the required amount of fluid is flowing through the system. For stop and start application, handwheel is turned till the compressor either lifts off the bottom till fluid flow is enable to pass through or push diaphragm against the bottom of valve to stop the fluid flow.
Working of Diaphragm Valve
Diaphragm which is connected to the compressor with the help of stud which is molded in the diaphragm, for starting or increasing the flow then compressor is being moved up with the help of valve stem. For slowing or stopping the flow the compressor is being lowered and diaphragm is then pressed against bottom of valve. The Diaphragm valves are very good for controlling the fluid flow which is containing suspended solids in it and they provide flexibility to be installed at any position.
Diaphragm valves of weir types are much better at throttling in comparison to the straight though diaphragm valves because quick opening valve characteristic is provided by the design's large shut off area which is along the seat. The diaphragm in the valve act as a gasket which works to seal leaks in between the bonnet cap and the body.
Types of Diaphragm Valve
Diaphragm valves are mainly of two types. Except diaphragm and body the basic construction of both types of valves are similar.
1. Weir Type Diaphragm Valve
This type of valve design is very popular among diaphragm valve and is best suited for the general use or for abrasive and corrosive services and are ideal for controlling small flows. The body of this type of valve has a raised lip with which the diaphragm comes in contact with. They use small diaphragm because the material do not have to stretch. Heavier material for valve can be used for the services of vacuum and high pressure.
Two piece compressor component designs is composed for this type of weir. Their body has bonnet assemblies which are recommended for handling dangerous gas or liquid because if diaphragm fails, hazardous material will not be able to release in the surrounding system. For food processing applications they are recommended because their body is self draining.