Types of Cock Valves (Stop Cock Valve): Working & Applications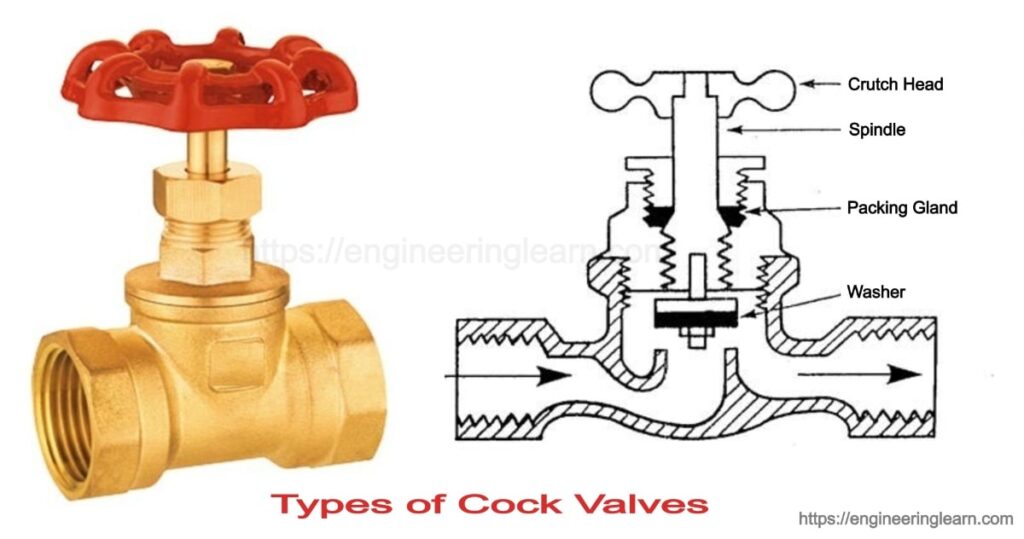 What is Cock Valve?
Types of Cock Valve: Working & Applications :- Cock valves are also called as Stop cock, quarter turn valves or plug valves are the valves which allow the user to permit or restrict the flow through pipe from external point. They are the simplest valve used for controlling the flow of fluid. Generally this valve can be actuated manually with a handle. They are also used for restricting fluid from moving beyond valve and can also be used for specific flow regulation. They are simple in design and are used in plumbing, refrigeration, heating, cooling and in other industries.
Applications of Cock Valve
Cock valves are used for various applications in most of the industries. They provide flexible control over flow diversions, on – off fluid flow and throttling for high as well as low pressure application.
Important applications of cock valves are:
Petroleum pipeline
Low pressure steam applications
Gas and fuel applications
Plumbing and waste water system
Power plant applications
Boiler feed water or high temperature flow
Corrosive chemical applications
Working of Cock Valve
Cock valves are easy to use and by tuning the knob it can restrict or allow the flow of fluid through valve. The plug will turn by turning the stem at 90 degree resulting the through port either perpendicular or parallel to the flowing fluid, ultimately stopping or allowing the flow through valve.
Types of Cock Valves
1. Non Lubricated Valve

: ( Types of Cock Valves )
In Non lubricated cock valves, lubrication is not provided. A seal is provided between the plug and the metal body. To reduce friction between these components, polymeric sleeves are implemented or plug is being lifted when turned and it reduces wear at the bottom of valve. These valves are very useful for the application where maintenance is impossible or difficult, like for the application of reactive fluids or applications of highly hazardous chemicals.
2. Lubricated Valve

: ( Types of Cock Valves )
They are same as other type of valves and the only difference is that a viscous lubricant like grease or oil is provided between body of valves and plug face, this provide better seal which then reduce friction but these valves require high maintenance because frequent use re – seal the valve. Therefore this type valves are best for operations which are not carried out frequently and the applications in which grains or dirt in process fluid gum up with the valve
3. Multi Port Valve

: ( Types of Cock Valves )
For more than 2 connection points Multi port valves are used but 3 or 4 way cock valves are used for specific needs. Plug is generally used for gate or wall design in which 1 – 2 paths are closed and fluid is allowed to flow down through two pathways. Multi port cock valves are used to reduce the number of valves in design hence useful for complicated projects with specific switching. Complexity also introduce high risk of failure in these valves hence high maintenance is required in multi port cock valves.