Types of Rivets and Their Uses [with Pictures]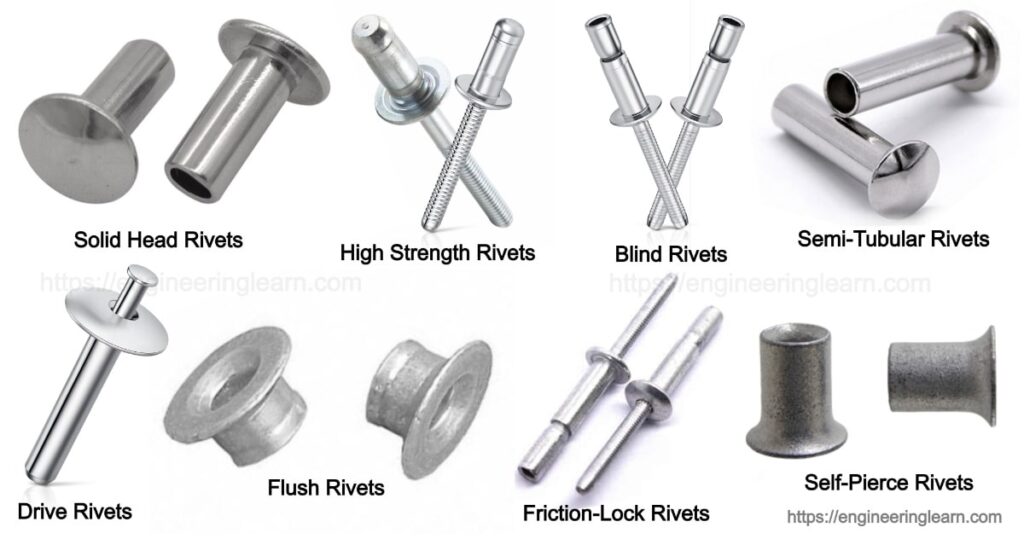 What is Rivets?
Types of Rivets :- Rivets are the fastener devices which are known to be the oldest units in the world. A rivet is a smooth, cylindrical shaft made of metal with one head on the end which becomes the foundation for creating the other head on the opposite end in order to hold the two pieces of material together firmly.
Rivets are known to be the permanent fasteners which once installed cannot be removed or reused and even if they are removed, they are either destroyed or are left of no use. It is good to know that installing it is pretty simple. The holes are punched or drilled into the material which is about to be fastened. The rivet is carefully inserted wherein the smaller end is deformed with an impact to flatten it, to secure both the pieces tightly together. The original head of a rivet is known as factory head whereas the deformed head is known as shop head or buck tail.
Types of Rivets
There are various styles of rivet which are designed to suit the widest range of applications, materials, and strengths in order to install without any failure. Refer to some of the most important and commonly used ones:
1. Solid Head Rivets

: ( Types of Rivets )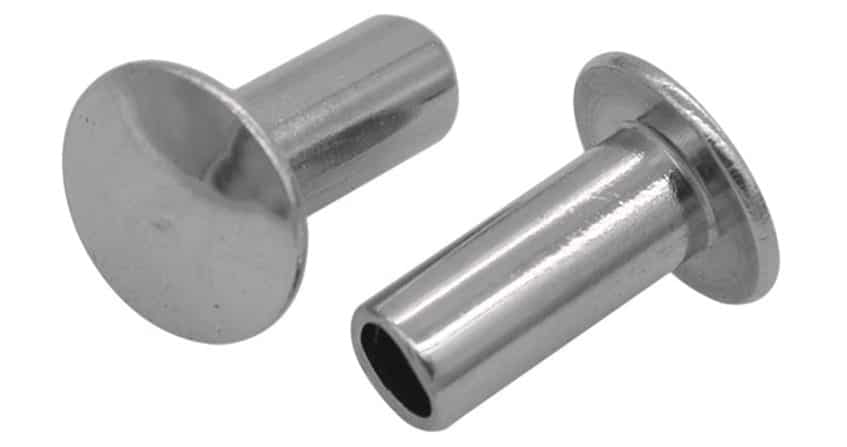 Solid head rivet is the original rivet design which was designed in the ancient era. These rivets can easily be deformed with the help of a hammer, a crimping tool, or a rivet gun which again depends upon the varying size and softness of the rivet. Solid rivets are preferred as they are most reliable, safe, and fool proof amongst all the others known to mankind.
2. High Strength Rivets

: ( Types of Rivets )
High strength rivets are also known as structural steel rivets which are into application from more than last hundred years and have been one of the main rivet for fastening structures of metal or any other like buildings, ships, and aircraft.
As it can be predicted by the name, they are known for being remarkably strong but needs several skilled workers to install these units. The thing which needs to be kept in mind is that while installing it must be heated immediately prior to use, to make it soft enough to deform.
3. Semi-Tubular Rivets

: ( Types of Rivets )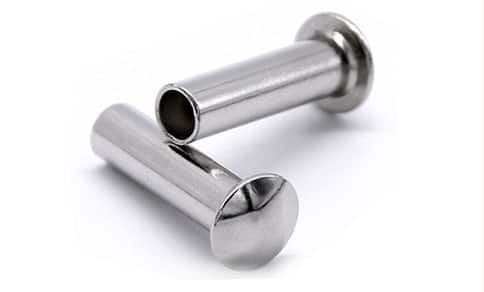 Semi-tubular or tubular rivets have a hole in the end or in the opposite of the factory head. This design of the rivet makes the deformation easier without using much of force. These type of rivets are well known for mass production applications.
4. Blind Rivets

: ( Types of Rivets )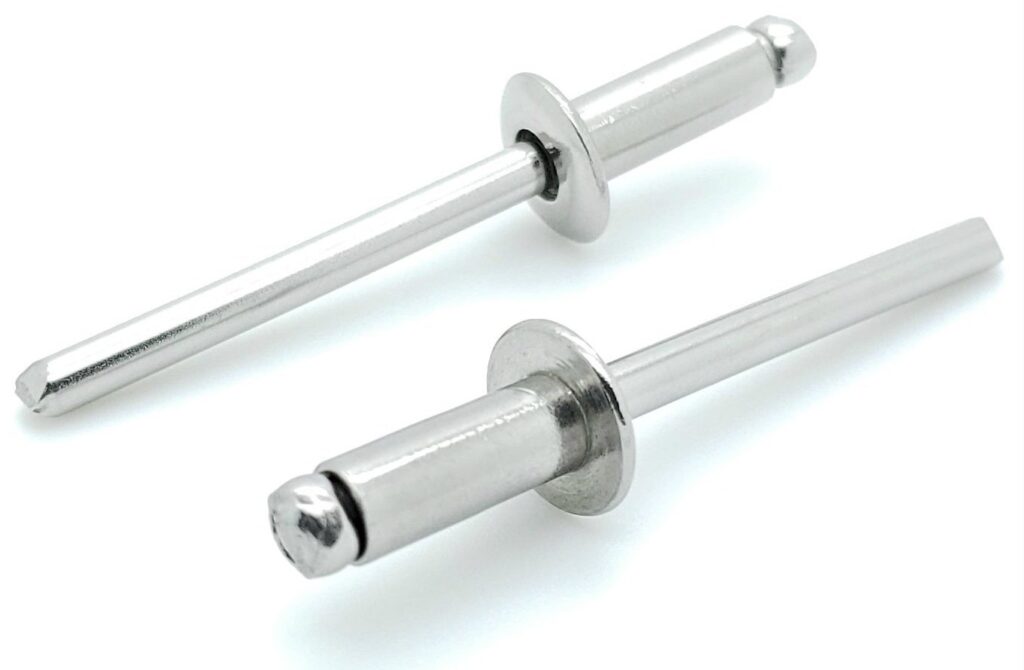 Blind rivets are a type of tubular rivet which are also known as pop rivets. These rivets are available in various heads like flat head, countersunk head or modified flush head which can be selected depending upon the requirement of the site. These rivets feature a mandrel which is drawn into the rivet intending to expand the end and then finish by securing the connection. The types of rivets can be decided depending upon the on-site applications in which the joint can be accessed only from one side.
5. Oscar Rivets

: ( Types of Rivets )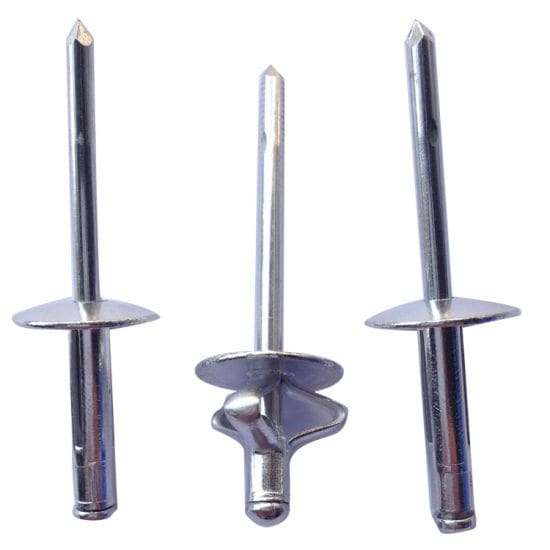 Oscar rivets are very similar to blind rivets in terms of appearance as well as installation. They only differ in one way where, when the mandrel is drawn throughout the rivet, the shaft gets splited and folds out in a similar manner to the toggle bolt which are used to secure things to drywall.
6. Drive Rivets

: ( Types of Rivets )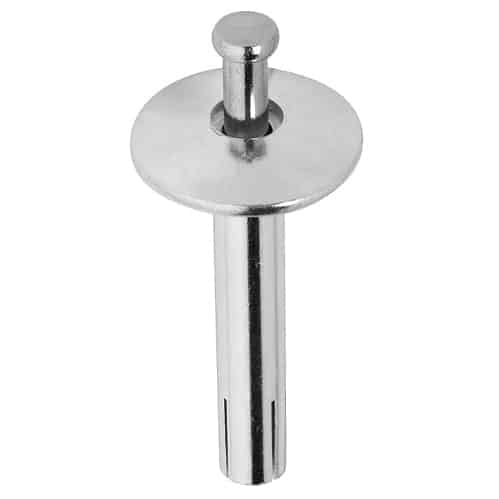 Drive rivets are the form of blind rivet accompanied with a short mandrel that extends from the head and can be flared using a hammer. These rivets are used where the hole does not penetrate the whole sheet, panel or block. Once the rivet is inserted, it gets struck, leading to expand the installed end and grips the sides of the hole.
7. Flush Rivets

: ( Types of Rivets )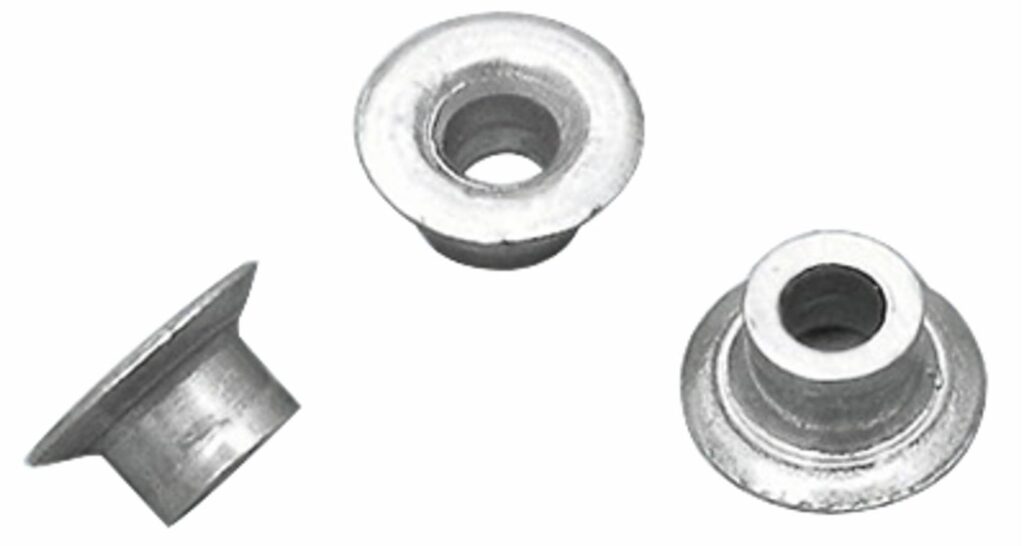 Flush rivets are used at the places which require an attractive appearance. For instance, rivets used in finished metal surfaces, where there is minimal visibility as it involves a countersunk hole. There is also a flush appearance present which is well suited for placing in aircraft components where aerodynamics is kept as the major concern which should not at all be neglected.
8. Friction-Lock Rivets

: ( Types of Rivets )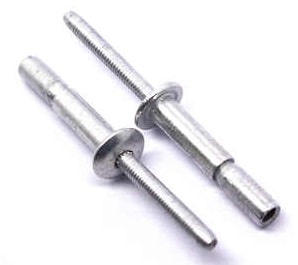 Friction lock rivets are quite similar to that of an expanding bold. The rivet shaft breaks due to tension, which helps in creating a flush finish. This has made it another common rivet which is used for aircraft construction.
9. Self-Pierce Rivets

: ( Types of Rivets )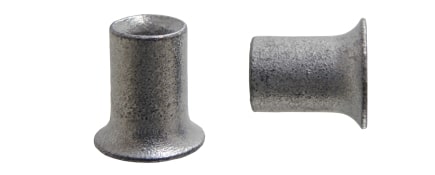 The best part of self-pierce rivets is that they do not require a hole for installation. Instead, the self-pierce rivet features an end which is designed to be punched on top sheet materials or bottom sheet where a die used with the rivet setter creates a small pocket into which the end is expanded in order to correctly hold it in place.
Applications of Rivets
Home Building

: ( Applications of Rivets )
If you observe your home both interior and exterior, you will surely see some rivets that you would have never observed before. After reading this, you might see them around you. Rivets are widely used in the construction of gutters as nails are not that effective for attaching metal sheets together as compared to rivets.
In case you have a fiberglass roof, it is mostly held together with rivets only. You can find window blinds, hanger straps, wind guards, and doors or windows which are also oftenly installed by the help of rivet. You would also be amazed to know that rivets are widely used in wall and ceiling decoration and also in wood works.
Jewellery

: ( Applications of Rivets )
Observing riveting on jewellery is a bit complicated as it is done with accuracy and good quality finishing. Riveting is used by professional as well as amateur jewellers as a cold connection technique which allows them to join pieces of metal together without soldering or heating it. Not only this much it is also used to add depth and texture to the jewellery.
Aircraft

: ( Applications of Rivets )
An aircraft is made from strong and solid materials which need to be joined together to give strength to it. Therefore, there comes a need to firmly hold these parts together without failure. Other than riveting there are various other process like welding, bolting, and brazing which are used in its construction, but riveting has a quite vital role in its construction.