Types of Pliers and Their Uses [with Pictures]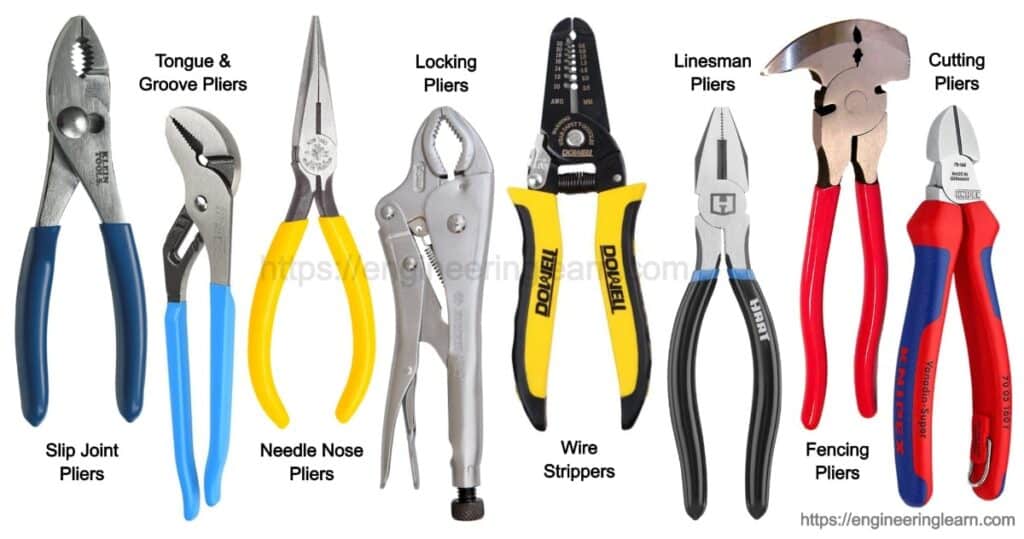 8 Major Types of Pliers and Their Uses :- Pliers are referred to as some of the handiest tools as they are mostly used for cutting, twisting, clamping and many more technical operations. While selecting a plier one must always look on the handle material, considering how tight the hinge will feel and how precisely the cutting surface will take place and also the overall quality of the tool.
8 Major Types of Pliers
There are 8 types of pliers which are commonly known to mankind in order to fulfil their site conditions. A detailed theory about all pliers are given below, Scroll down to know more:
1. Slip Joint Pliers

: ( Types of Pliers )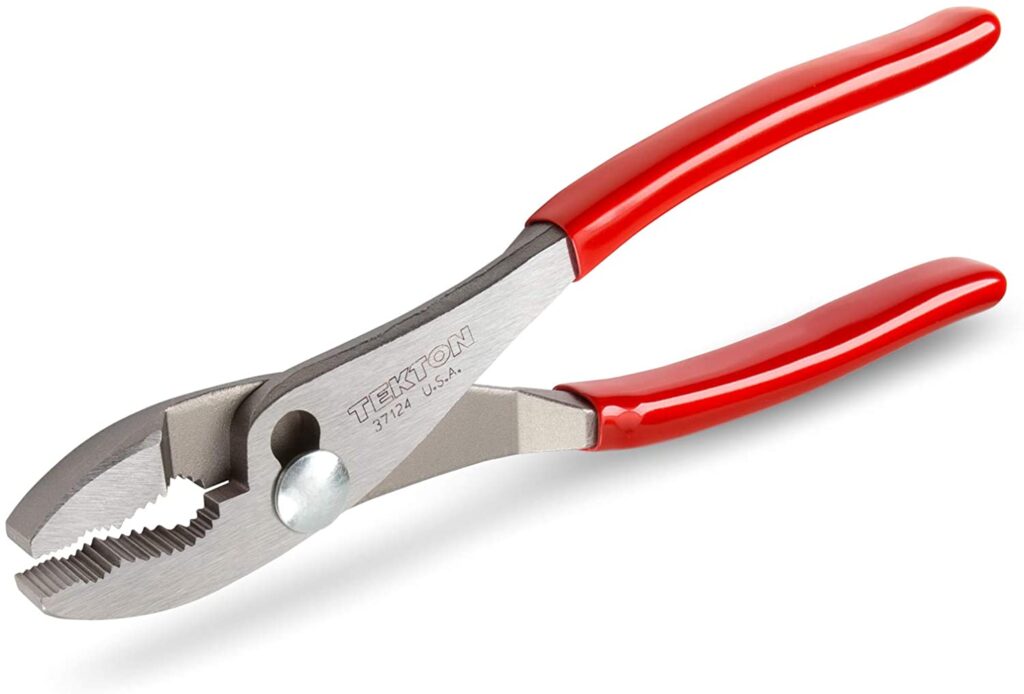 A slip joint plier got its name from the slip joints. These are the types of pliers which have an adjustable pivot point that allows the two pieces of the plier to move and also extends the range of the jaws. These pliers are found gripping well the materials of varying thickness.
The jaws of the slip joint consist of two parts first at the mouth which has the flat jaws with serrated texture in order to give higher gripping at the flat surfaces. The jaws are found having a curve out in order to grip the rounded surfaces, for instance pipes and rods.
These are various other types of pliers for the general purpose and are very common in the tool kits. They work quite well in a variety of gripping applications, which depends on the particular plier feature and can find some help in applications like bending, holding, crimping metal, looping wire and cutting wire. At the end the slip joint pliers are really handy tools which must be around you while working.
2. Tongue & Groove Pliers

: ( Types of Pliers )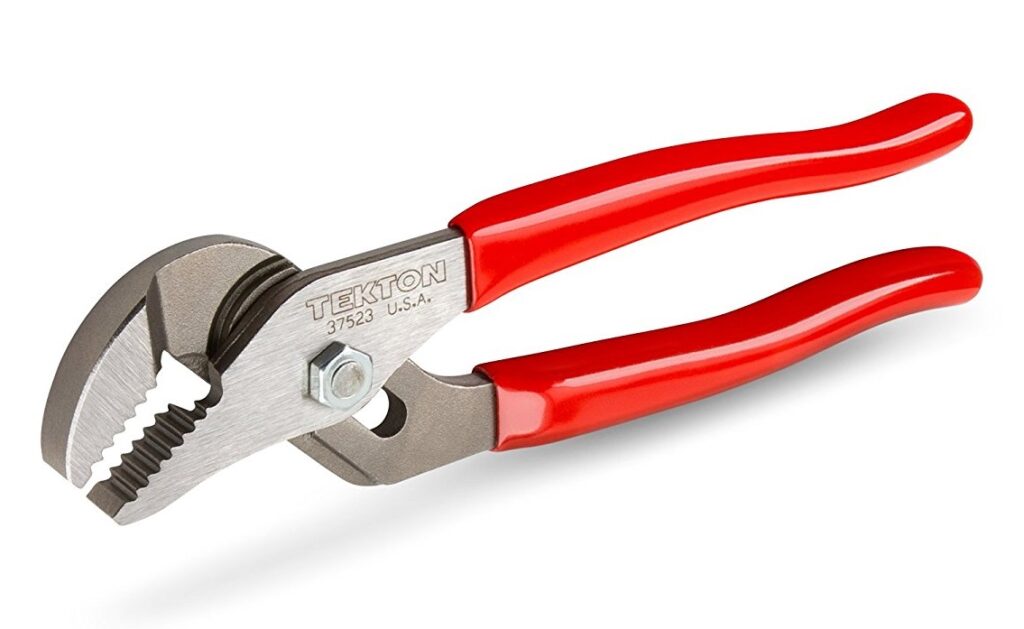 Tongue-and-groove pliers are those pliers which operate on the same principles as that of slip joints so that they can be a subset of that category instead of an entirely separate one. These pliers are also known as the water-pump pliers, multi-grips or Channel-locks. These are the types of pliers which find the majority of their use in the plumbing applications. The best thing about these types of pliers is that they also have an adjustable pivot which will adjust lot more than the pivot of a slip joint.
It is interesting to know that the water-pump pliers are found having seven different positions, which also varies depending upon the size and the requirement. The jaws of these pliers stay in connected in a parallel position and when required can open up wider. The head of such pliers are typically angled so that the handles are longer to allow access to pipes in a tighter space.
3. Locking Pliers

: ( Types of Pliers )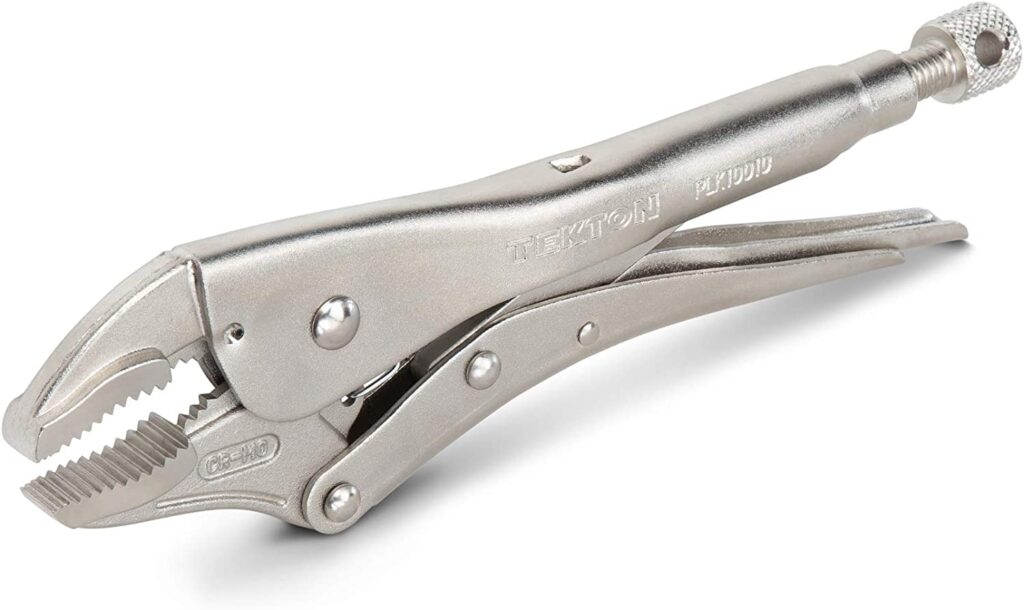 Locking pliers are one of the best working pliers used for clamping down things, mostly during times when having both hands free is helpful. These pliers are found having a double-lever action which allows them to act as a hand-held vise and therefore is also named as Vise-Grips that most of the people use for them.
The jaws of such type of pliers are found to close as it is expected from any other set of pliers with an added benefit of locking it down with a higher amount of pressure. The locking pliers releases the hold once the lever is triggered on the handle. The jaw width can be adjusted by dialling the screw drive at the end of the handle.
Most of the locking pliers can find action in a multitude of its applications. For instance, one can find a use of pipe wrenches, adjustable wrenches and clamps. These all are the pliers which can be used on the reusable fasteners, though before using you need to be really careful with this type of applications. There are chances which are good and needs to apply too much force with the clamping action, damaging the fasteners and fittings which are supposed to be applied to the locking pliers.
4. Linesman's Pliers

: ( Types of Pliers )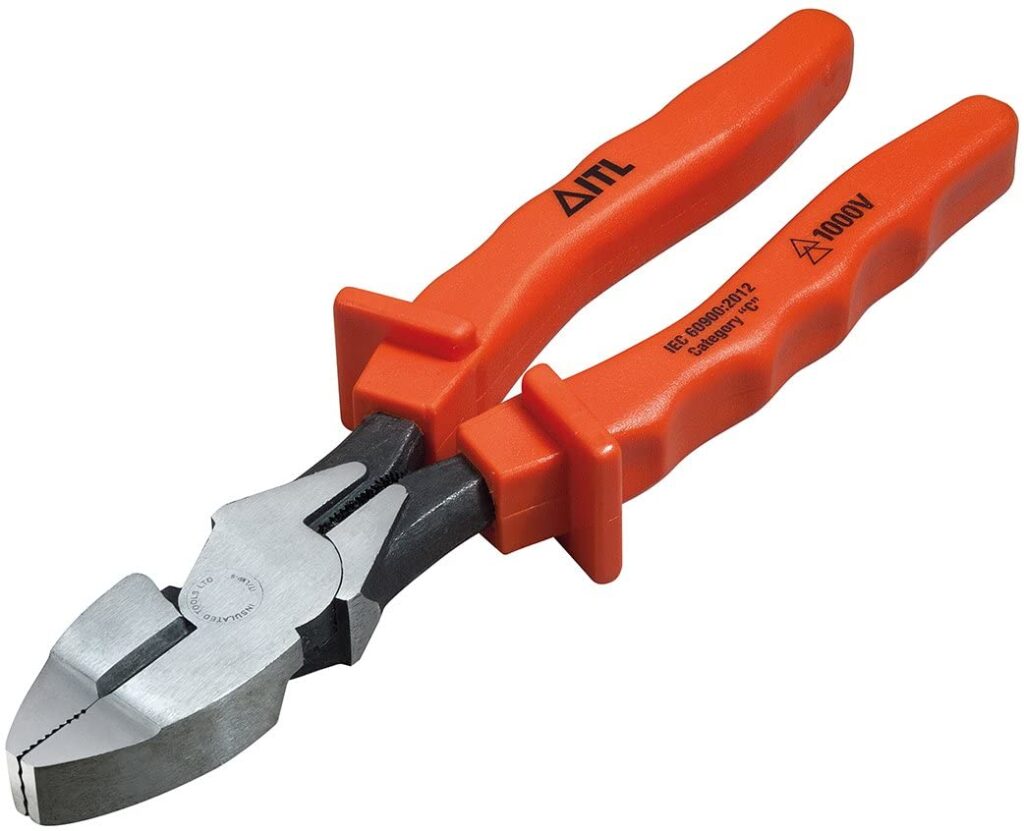 Linesman's pliers are also termed as electrician's pliers which have a hinge at a set pivot point. The jaws of these types of pliers are found having a flat front with a shallow serrations for flat gripping objects which also allows an electricians to twist the wires together wherever required. Just behind the front of the jaws these pliers include side cutters which is responsible for cutting the wires. Although they usually have various dipped handles and most amongst all are insulated but still one must not work on live connections with them.
5. Cutting Pliers

: ( Types of Pliers )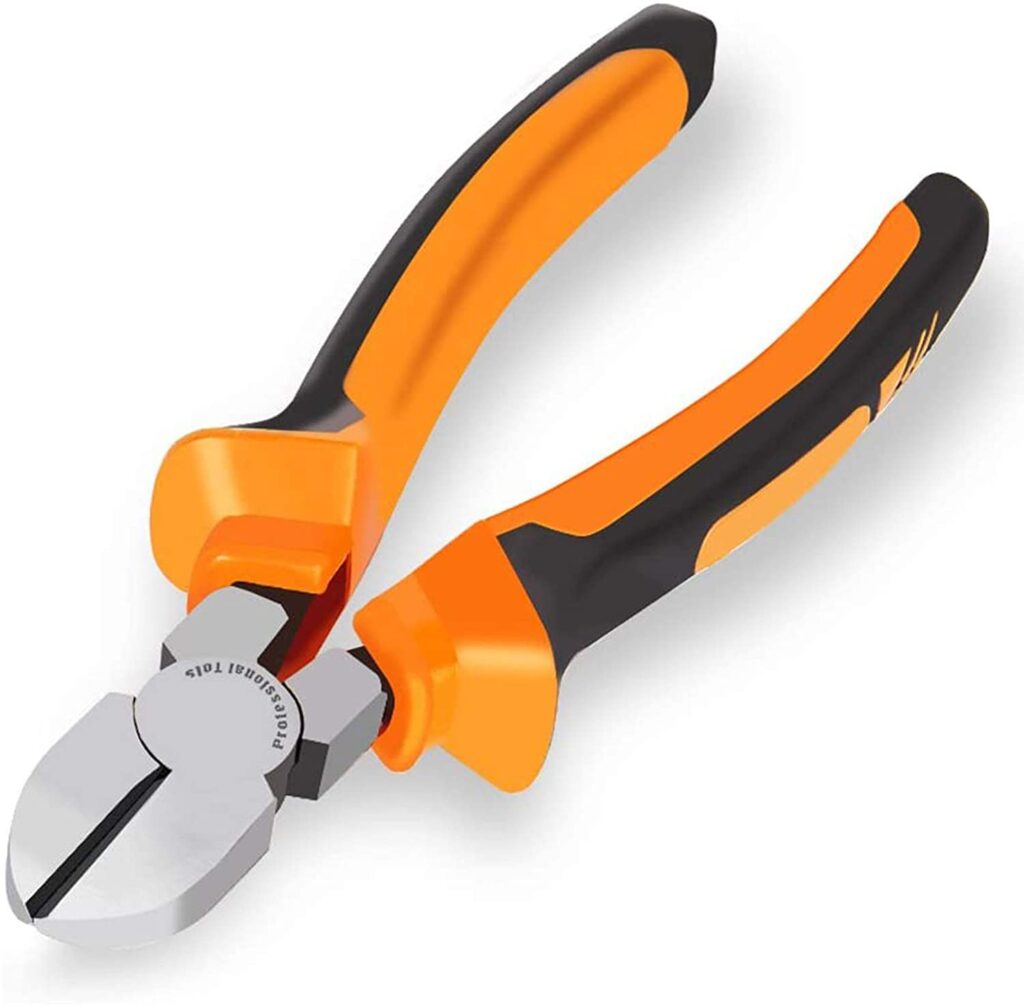 Cutting pliers are also termed as diagonal cutting pliers which are staple in the electrical tool kit. These types of feature are relatively short jaw that set up a particular angle away from the handles. The cutting knives are extended up to the tips which gives you an ability to accurately snip wires which are in a crowded gang box or even cut small nails and screws. Other than this there are some features which gives it a longer handle in order to get an additional leverage.